CLICK IMAGE TO THE RIGHT FOR AVAILABILITY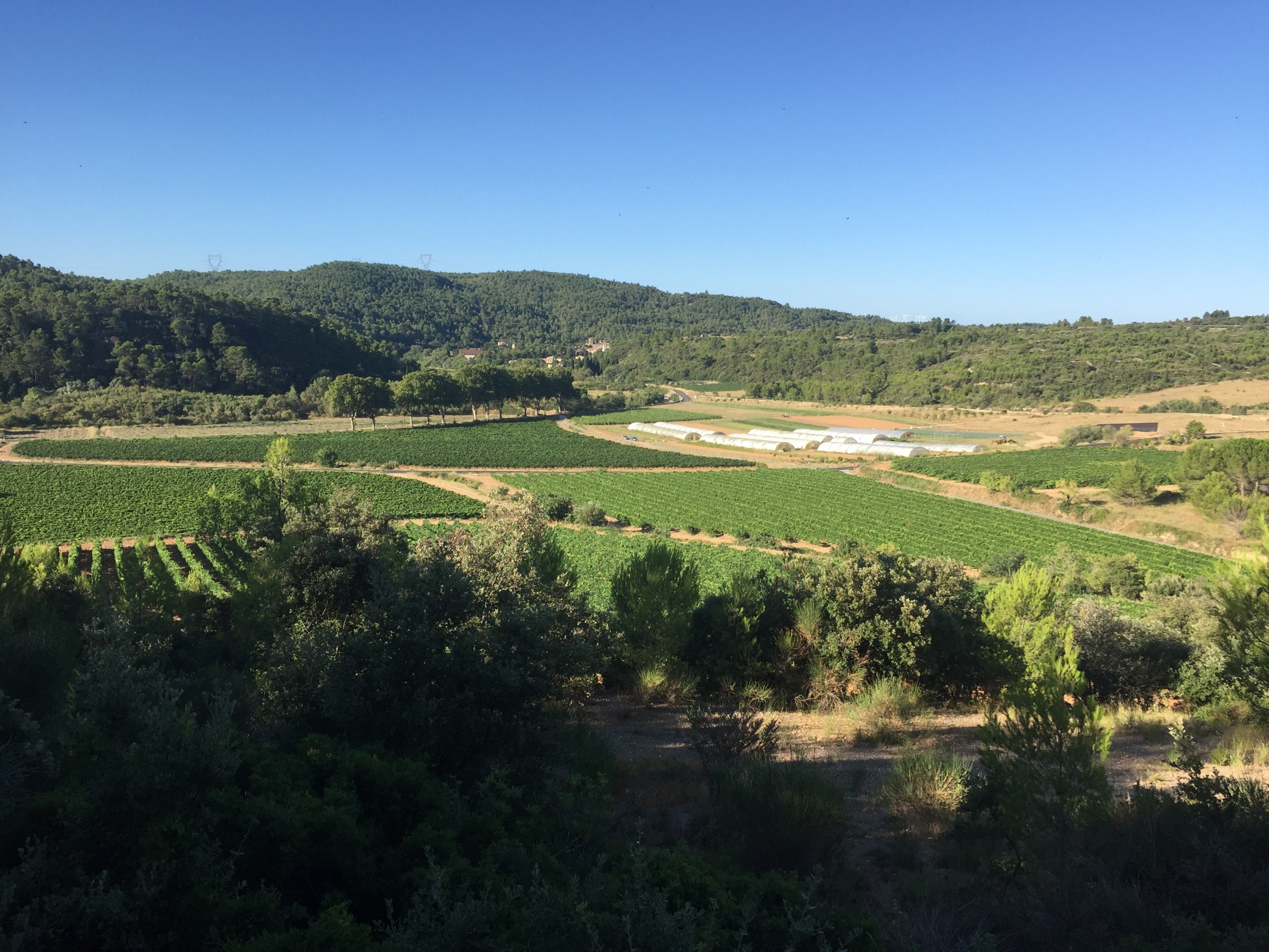 If you like the sun in a beautiful setting with your own private pool this is for you!
We have a lovely hotel in Brandon but where do we go on holiday? Well the answer is SW France where I bought a villa just after the Millennium which is just the most fabulous place to get away and relax in the sunshine.
Our villa is in a small village called Agel and it situated in the Minervois wine region in the heart of the Langeudoc area which is well known by discerning holidaymakers as a superbly unspoiled part of SW France.
Agel is peace and quite personified so if you are looking for nightclubs and bustle it will not be for you!
But if like me you enjoy fantastic scenery in the foothills of the national park and the chance to get out on walks and runs and bike rides in the forested trails and paths that are so numerous in the local area from right on your doorstep and then return to your modern well appointed villa with its wonderful pool and paved garden to soak up the sunshine and relax then it may well be just what you are looking for in a holiday!
Traffic hardly comes through Agel and even when it does we are so well off the road you dont hear it! You are more likely to hear birdsong and the relentless chirping of the crickets in the vineyard that fronts the property and give you the most lovely views from inside or out.
When we married we held our wedding reception at the villa and 50 guests from UK flew over to have the most fantastic meal outdoors on the original wooden verandah that I built after purchasing the property in 2002!
But in 2017 I have completely remodelled the exterior to provide the most fabulous paved relaxation space around the pool which has it French pool fence system (mandatory in French Law) to provide the perfect holiday area for a family either with children or perhaps two couples sharing.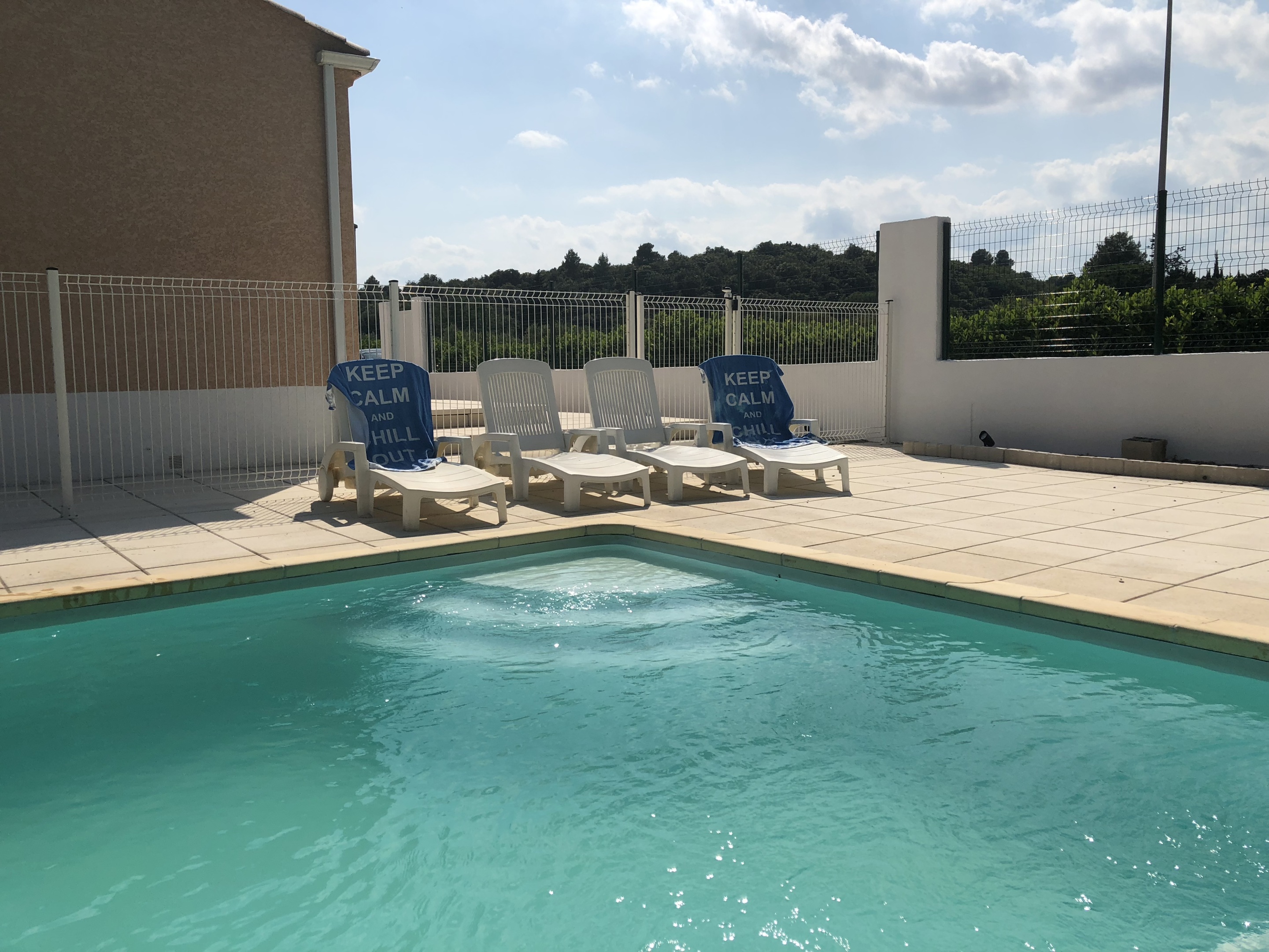 What you get!
There are two bedrooms in the villa. Each en suite.
I have exported the very same Mattison Monarch 1400 beds we use so successfully at the the hotel to provide the best sleeping arrangements anywhere in the Langeudoc!
The Master bedroom has a king size bed and looks out onto the pool from its double shuttered doors and has the terrace we have christened the "Hollywood Steps" due to the flush patio lighting I fitted at the time the paving was laid. Please do see the photos to get a good idea of how lovely it is!
The other bedroom is ensuite as well and has a full sized single and a unique sturdy metal bunk which features a double on the lower level with a single up top! In theory then four persons could use the room but we have three kids and its perfect for them! Fully fitted cupboards are in each bedroom and the villa has its WC off main hallway for ease of access from the rest of the property.
I have a fully fitted kitchen by La Peyre with an oven with ceramic hob and grill, fridge freezer, thick cut toaster, microwave, kettle, dishwasher and of course all your crockery cutlery and glassware. Please replace breakages on a like for like basis to avoid deposits needing to be withheld after your stay.
In the lounge there is a wooden eight seater dining table from Habitat and two simple sofas and Poang relaxer chairs to enjoy the UK Freeview tv that we have made available in the lounge as a home from home touch. The property is single storey with access to the paved terracing and patio from no fewer than five doorways which gives you superb access. The property has an indesit washing machine in the hallway cupboard for your use.
The pool and garden.
Without doubt the beauty of a holiday in my villa centres on using the 11 by 4 metre pool in total privacy and safety with the 2m beech hedge that borders the neighbouring boundaries and the secure fenced section with double and single garden gates to give you peace of mind when you are either in residence or out enjoying yourselves.
The paving and terracing has been purpose designed to maximise the huge garden area and give you the choice of sun or shade at any time of the day by being able to move to the shady side at any given time which is important when the temperature are 30 degrees plus which is the norm during summer.
There is a lovely shady gravelled area which is perfect for playing boules and just relaxing under the plane trees perhaps in my very sturdy hammock which you will find at the property!
The pool is a delight and has unique quadrant steps to ease you in and out of the crystal clear fresh water (which comes from the mountains) and is filtered and maintained by me as part of your package, The pool attendant is my old friend Mel who is a very wise and wonderful Scotsman who lives in the neighbouring village along with his wife Heather and their children. They are old family friends of mine and provide a great service to me by keeping an eye on the villa for me and servicing the pool in season.
I have a set of composite 'rattan' furniture for you to enjoy as well as sunbeds for four and a metal dining table for eight so you can eat outside if you prefer in the cool of the evening. There is a washing line that will have your things dry in minutes and the washing machine is in the hallway cupboard so you won't have need to use the village communal washing pools which are still functioning near the mairie! They are great to see though so definitely worth a visit.
When youre down there you will see Agel's tennis Court which typically of France is superb and you can hire it by arrangement from the Marie office!
There is also a bike rack to take four mountain bikes which are well worth bringing if you are driving all the way as the local trails and rides are just brilliant! The Tour de France goes past each year and you can certainly watch the riders pass with ease if you are booked to stay at the right time!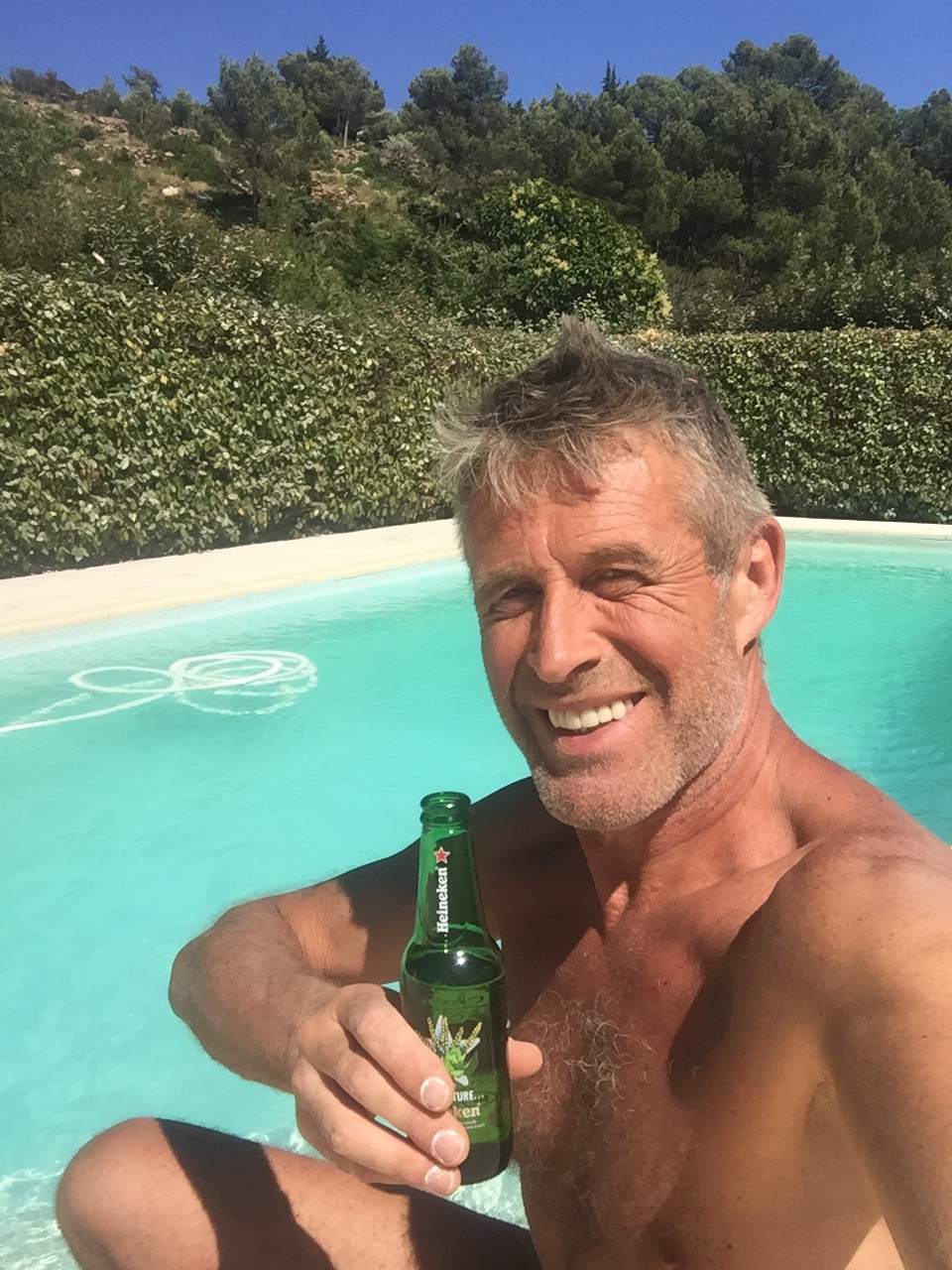 The Local Area
A holiday in my villa is without doubt best suited for families or friends who like to get out in the countryside and walk the trails and tracks and enjoy the scenery from the hills that wrap themselves around the thousands of acres of vineyards that go to produce Minervois red wine which was the Royal table wine of the French Kings for centuries and it is delicious stuff believe me!
For runners and mountain bikers you simple won't find better. It's brilliant. I was following a training plan for a half marathon right throughout our last holiday there and the early morning runs up the mountain and around the pine forests with my 'Gladiator' sound track in earphones were a delight!
But Minervois and the Languedoc in general has a lot more to offer than just running and cycling! You are an hour from the Spanish border and Barcelona is just three hours by car or similar by train from Narbonne. The Dahil museum at Figueras just into Spain is a must.
The Med coast of France is just 40 minutes away by car and there are super beaches and seaside towns from Cap D'Ag right round to gorgeous Collioure where France joins Spain and then of course continuing on into Spain and the Spanish beaches as well. It's the other end of France from the Cote D'Azur with Cannes and Nice at its heart but having said that it's only a four hour drive if you are tempted to strike out!
Narbonne and Bezier are local cities stacked with culture and history and other towns of note are Perpignan, Carcassonne (with it's medieval castle) and Montpellier and all three of those are only about an hour by car with the first two much closer than that. And don't miss Minerve itself the ancient city of the region on a cliff in the heart of everything and just six km from the villa. Some super restaurants and history in abundance!
There are lots more delightful restaurants tucked away off the beaten track in the wine villages of the region and the market at St Chinian (another superb red!) is a must on a Sunday. Sigean is a wildlife park where you can drive through "a la Longleat" and Aqualand is a must for the kids!
Part of the joy of a holiday here is to find those little restaurant gems that you fall in love with and then decide if you are going to share them with your fellow holidaymakers who may follow you or keep them as your own secrets which is always a temptation!
Don't worry there are a few I can tell you about that are worth a visit and I'd love to hear about any you find and care to reveal!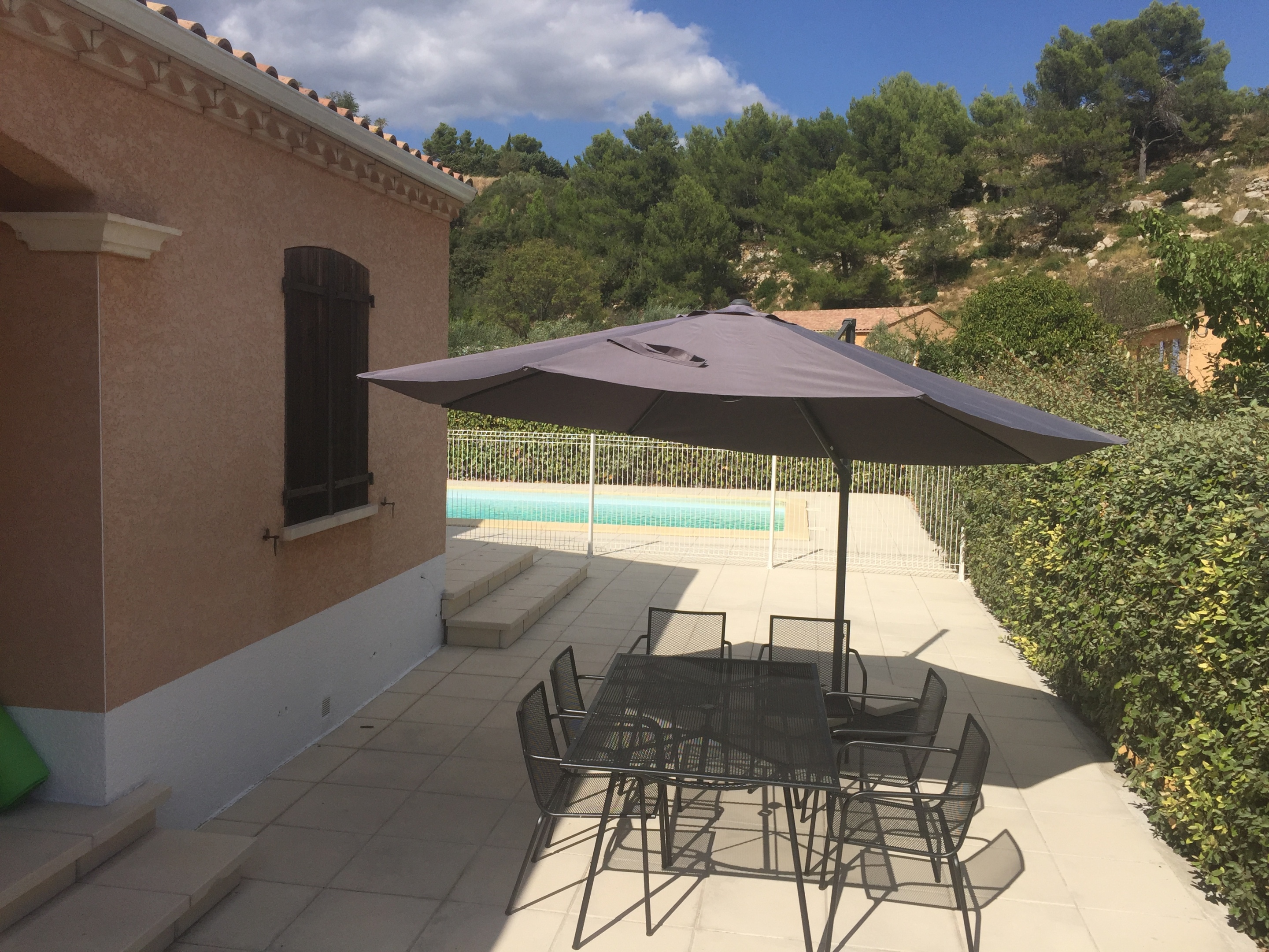 Pricing and How to Book (CLICK THE PIC TOP RIGHT FOR AVAILABILITY)
The idea always was to share the villa with returning guests of the hotel who fancied a holiday in the sun and liked the area it's in.
The six months between May and September are the sunny months to consider but the villa had modern electric radiators and I am quite prepared to consider winter lets as well so please do get in touch if you'd be interested in one of those?
I've monitored the pricing in the region carefully over the years and so just as at the hotel I am confident of providing value for money with comfortable well thought through fixtures and fittings so that you can have a great break at a great price and then come and see us at the hotel again and tell us all about it!
The villa is competitively priced at £150 a night with a minimum rental of two weeks.
Summer months are simply gorgeous and Friday is the changeover day. Leavers by 1000 and Arrivals not before 1600 please to ensure we can turn everything round for you and have the villa perfect for your arrival
To book please just get in touch with Matt at the Bridge Hotel Brandon either by email or phone (01842 338228) and if the weeks you would like to book are free then we can reserve them for you with a 25% non refundable deposit with balance due a month before your holiday
We have a security deposit of £500 which is held against your card against your card but not charged unless unreported breakages are severe.
In all the time I have rented the villa out I have never had to charge this fee. It is to protect our property and of course I prefer guests who are going to treat the villa as they would their own home and take the greatest of care of what is a super place to stay.
We urge like for like replacement as of course accidents can and do happen but more than anything we want like minded people to be able to go and really enjoy a stay in Agel and then of course tell us all about it and come and stay at the hotel as well!
Call Matt for a chat about the villa any time on the hotel number. I am happy to tell you anything you'd like to know about the villa the area and anything else that helps!